The Future of Procurement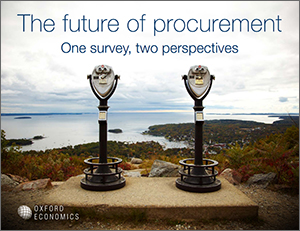 The procurement function is becoming more strategic, more collaborative, and more technology-driven than ever before—and these transformative trends are ongoing. But at most companies, procurement still has challenges to address in terms of technology, organization, and human capital before it is a truly strategic function.
In early 2015, Oxford Economics worked with SAP to better understand where procurement is now and where it is headed. We fielded two surveys across 18 countries—one of more than 500 senior procurement executives, the other of over 500 non-executive procurement practitioners (e.g., category managers, sourcing staff, buyers, and procurement operations specialists). We also conducted a series of live interviews with executives from the industries and regions surveyed.
About SAP
The market leader in enterprise application software, SAP helps organizations fight the damaging effects of complexity, generate new opportunities for innovation and growth, and stay ahead of the competition. To find out more, please visit: sap.com