The economic consequences of the US Department of Labor's proposed new fiduciary standard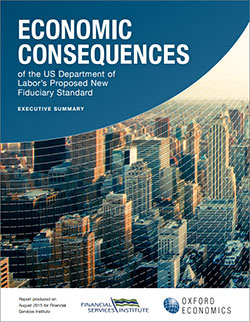 This study focuses on the economic impact of the Department of Labor's (DOL) proposed fiduciary rule for retirement advice on the independent financial services industry and investors who rely on independent advice. It estimates the DOL's proposed rule will cost the independent financial services industry and investors nearly $3.9 billion in total startup costs to implement the rule – nearly 20 times DOL's preferred cost estimate—and suggests that, if the rule is implemented, only high net-worth investors will be able to access and afford professional retirement investment advice.
About the Financial Services Institute
The Financial Services Institute (FSI) was founded in 2004 with a clear mission: to ensure that all individuals have access to competent and affordable financial advice, products and services delivered by a growing network of independent financial advisors and independent financial services firms. To find out more, please visit: www.financialservices.com.
Oxford Economics Research Team
Our Economics Impact team produces original, evidence-based research made accessible to decision-makers and opinion leaders. Principals for this project included: