The Cisco UK Productivity Index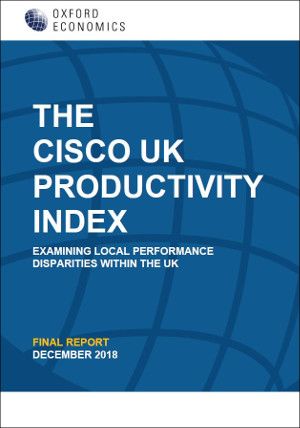 Examining Local Performance Disparities Within The UK
Britain is in the grip of a long-term productivity slump. While most major economies have seen productivity growth slow since the financial crisis, the UK's experience has been particularly poor. A key aspect of this story is the disparities in productivity between different UK locations—even within the same region. Oxford Economics has created the Cisco UK Productivity Index to shed new light on this issue.
A key feature of the Index is that it controls for the aspect of productivity performance that is explainable by each local area's industrial mix (the "industry effect"). In so doing, it can shed more light on other explanatory factors that may be unique to each area – from levels of investment in technology to the quality of road, rail, and air connections.
The Index reveals a wide divergence in productivity levels across the UK, even when these differences in industrial composition are taken into account. Large intra-regional variations are also highlighted, particularly in the Index's stronger performing areas. This underlines that regional geographies are only part of the explanation for the UK's productivity disparities.
Our economic consulting team are world leaders in quantitative economic analysis, working with clients around the globe and across sectors to build models, forecast markets and evaluate interventions using state-of-the art techniques. Lead consultants on this project were: