The Economic Impact of COVID-19 on Asia-Pacific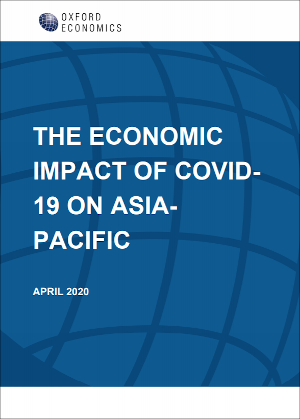 In this report, Oxford Economics looks at the impact the COVID-19 pandemic on the economies of Asia-Pacific. We look at the impact of lockdown measures to contain the pandemic in China and other economies in the region, and their toll on business and households.
As the COVID-19 pandemic continues around the globe, governments, investors, business and households are beginning to understand the financial and economic costs more clearly.
In this report we examine the channels through which COVID-19 has impacted on the economies of the Asia-Pacific region. We explore the economic cost of lockdown measures, particularly so in China, as well as knock-on effects through supply-chains, tourism, and financial markets. We set out our forecasts for an historically-sharp downturn in the first half of 2020, but potential for a rapid recovery starting later this year and into 2021.
Finally, we examine a downside scenario, simulated using our Global Economic Model, in which lockdown measures spread globally and the economic cost is even greater than in our baseline forecast.
Our economic consulting team are world leaders in quantitative economic analysis, working with clients around the globe and across sectors to build models, forecast markets and evaluate interventions using state-of-the art techniques. Lead consultants on this project were: