Recent Release | 26 Jun 2019
How Robots Change the World
Thought Leadership and Economic Consulting Teams
Oxford Economics
What automation really means for jobs and productivity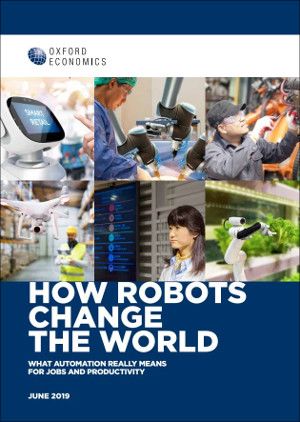 The robotics revolution is rapidly accelerating, as fast-paced technological advances in automation, engineering, energy storage, artificial intelligence and machine learning converge. The far-reaching results will transform the capabilities of robots and their ability to take over tasks once carried out by humans.
Already, the number of robots in use worldwide multiplied three-fold over the past two decades, to 2.25 million. Trends suggest the global stock of robots will multiply even faster in the next 20 years, reaching as many as 20 million by 2030, with 14 million in China alone. The implications are immense, and the emerging challenges for policy-makers are equally daunting in scale.
The rise of the robots will boost productivity and economic growth. And it will lead to the creation of new jobs in yet-to-exist industries. But existing business models in many sectors will be seriously disrupted and millions of existing jobs will be lost. We estimate up to 20 million manufacturing jobs are set to be lost to robots by 2030.
The effects of these job losses will vary greatly across countries and regions, with a disproportionate toll on lower-skilled workers and on poorer local economies. In lower-skilled regions, we find that robots lead to almost twice as many manufacturing job losses. In many places, the impact will aggravate social and economic stress in times when political polarisation is a worrying trend.
At Oxford Economics, our mission is to help our clients better understand an ever-more complex and fast-changing world economy. With the world on the cusp of this new industrial revolution, we are pleased to share the findings of our extensive research study into these profound economic shifts with everyone interested in the shape of things to come.
That is why we brought together a team of our economists, econometricians, modellers and technology experts from across our worldwide network of over 300 economists and analysts to conduct an extensive research study to analyse the robotics phenomenon.
About the team
Our economic consulting and thought leadership teams are world leaders in quantitative economic analysis and original, evidence-based research, working with clients around the globe and across sectors to build models, forecast markets, run extensive surveys, and evaluate interventions using state-of-the art techniques.
James Lambert
Director of Economic Consulting, Asia
+65 6850 0118
James Lambert
Director of Economic Consulting, Asia
Singapore
James is the Director of Oxford Economics' economic consulting services in Asia.
James moved to this role from Oxford Economics' London office, where he headed up a team dedicated to exploring the economic impact of technology. He delivered high profile studies on the growth of the digital economy, the impact of automation and the implications for the labour market.
Prior to joining Oxford Economics, James spent over six years in the Government Economics Service. He worked in economics teams of the Cabinet Office, the Foreign and Commonwealth Office and the Department for Transport. There, he gained experience in microeconomic analysis and impact assessment as well as international macroeconomics, economic risk analysis and energy security. In the FCO, James spent three years working on economic issues in East and South East Asia. He also previously worked for the International Labour Organization.
Edward Cone
Editorial Director, Thought Leadership
+1 (336) 337 3127
Edward Cone
Editorial Director, Thought Leadership
New York, United States
Editorial Director Edward Cone oversees global research programs for our Thought Leadership group. As Technology Practice Lead he works with clients such as Google, Accenture, IBM, SAP, and many others. His areas of focus include Artificial Intelligence, the impact of technology on business performance, and healthcare organizations.
Edward joined the firm in 2012 after more than two decades as a business and technology journalist based in New York, Paris, and North Carolina, including stints as an editor and writer at various Ziff Davis magazines (CIO Insight, Baseline), a contributing editor at Wired, and a staff writer at Forbes.
Edward also wrote a weekly newspaper opinion column for many years in his hometown of Greensboro, NC and authored a semi-popular blog. He has contributed to a bewildering variety of magazines and papers on topics ranging from politics to rock climbing and was a frequent speaker and organizer at new media conferences across the country. Honors for his work include the 2020 Rybczynski Prize, awarded for the best essay on economics by Society of Professional Economists, and various awards from the American Society of Business Publication Editors and the North Carolina Press Association. He has a BA from Haverford College.
You may also be interested in