The State of the Nation: the UK Family Business Sector 2018-19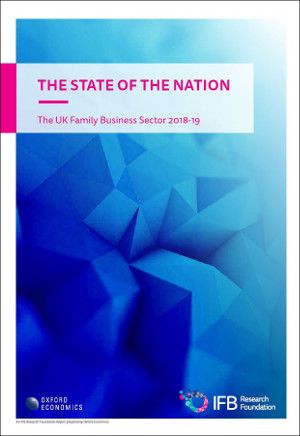 The family business sector is vital to the UK economy. Throughout every region and industrial sector, family-owned businesses are a driving force, employing millions of people, generating more than a quarter of the UK's annual GDP, and contributing over 20 percent of its total tax revenues each year.
This report presents the most up-to-date evidence on the UK's family business sector. It investigates the characteristics of family firms - their size, structure, and concentration across different industries - and measures their total economic contribution to UK GDP, employment, and taxes, nationally, regionally, and across each industrial sector. Furthermore, it provides insights into how small- and medium-sized (SME) family businesses are performing, drawing on survey evidence from thousands of businesses across the UK, and sheds light on the unique challenges they face, now and in the future.
Our economic consulting team are world leaders in quantitative economic analysis, working with clients around the globe and across sectors to build models, forecast markets and evaluate interventions using state-of-the art techniques. Lead consultants on this project were: