The State of the Nation: The UK Family Business Sector 2019-20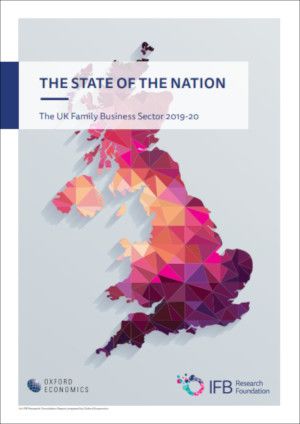 The latest update of The State of the Nation provides up-to-date evidence and analysis of the UK's family business sector, a crucial component of the UK economy that in 2018 employed 14.2 million people, contributed £657 billion to UK GDP, and paid £196 billion in taxes.
Building on previous research, this report on the behalf of the Institute for Family Business Research Foundation offers a detailed look at the make-up of the UK family business sector, the important contributions the sector makes to the UK economy, and the issues that the sector faces in the future. Drawing on the latest evidence from thousands of firms across the UK, this research explores the performance, aims, and challenges of family businesses, how these vary across regions and industries, and how they differ from these businesses' non-family counterparts. New for this edition are analysis of the sector's R&D spending, its use of technology, and a preliminary look at the effect of the coronavirus pandemic.
Our economic consulting team are world leaders in quantitative economic analysis, working with clients around the globe and across sectors to build models, forecast markets and evaluate interventions using state-of-the art techniques. Lead consultants on this project were: