Recent Release | 13 Jan 2022
Sustainability as a transformation catalyst: Trailblazers turn aspiration into action
Thought Leadership Team
Oxford Economics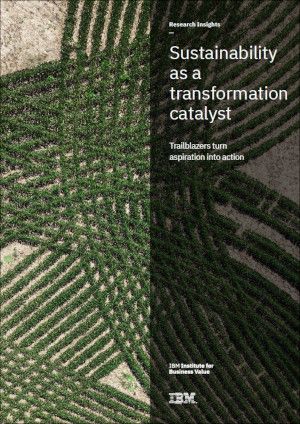 IBM's Institute for Business Value and Oxford Economics surveyed just under 2,000 executives in 32 countries in 2021. Key executives included Chief Sustainability Officers and Chief Innovation Officers, among many others. We wanted to find out the impact of acting on sustainability strategy: does it hurt innovation or upend the path toward digital transformation? We found that this new corporate priority—the sustainability agenda—can actually be a catalyst for transformation and innovation.
Becoming a sustainable enterprise is not easy. Many corporations are committed to sustainability, but only a few have a clear strategy to achieve those goals. Moreover, lack of data, technological barriers, and customer resistance all pose significant barriers to sustainability initiatives. Integrating digital transformation and sustainability initiatives can be a powerful lever to encourage progress.
About the team
Our Thought Leadership team produces original, evidence-based research made accessible to decision-makers and opinion leaders. Principals for this project included:
Tom Ehrbar
Senior Editor, Thought Leadership
+1 646 668 5794
Private: Tom Ehrbar
Senior Editor, Thought Leadership
New York, United States
Related Services
Service Category
Climate Change
Assess the impact climate change will have on all aspects of your business. Now and in the future.
Find Out More