Blog | 10 Mar 2022
Four ways businesses and policymakers can support scientific research
Rob Harbron
Associate Director, Economic Impact
Since the early days of the COVID-19 pandemic, key themes of scientific research—testing procedures, drug treatments, and vaccinations—have become urgent topics of debate for policymakers, academics, and the general public alike. Scientific research is also a very important topic for economists, because it often leads to innovative new products and processes, which create more efficient ways of doing things (which we refer to as productivity gains) or improves standards of living. Few economists would disagree that innovations and technological progress are crucial to growth over the long term.
But what if scientific research were getting harder, becoming increasingly expensive and resource-hungry to produce the next breakthrough? And what could be done to stop this from happening?
In a 2022 study with Merck, we looked into this issue and found some areas of science where productivity did appear to be falling. For instance, pharmaceuticals companies must now invest more per new drug than in previous decades (see chart below).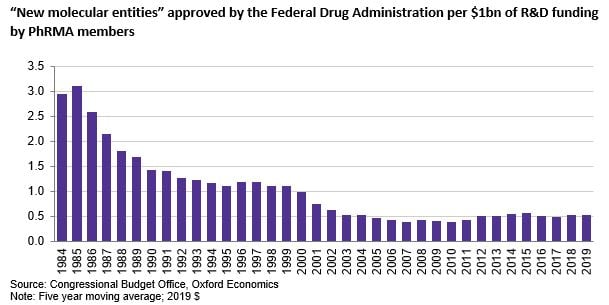 This evidence is not universal, though—in fact, we found other areas of research where productivity seems to be increasing. For instance, researchers around the world seem to be producing more scientific papers per million euros of university funding, even after adjusting for quality.
Our research revealed four key areas that act as drivers of productivity in scientific research, where businesses and policymakers can focus attention to ensure the right support is given.
Greater government support: Governments are generally seen as supportive of R&D in the countries we examined. However, government funding has increased only very slowly in recent years in many countries after adjusting for inflation, and there is concern it may no longer be adequate to fund new "blue sky" projects. Lengthening the investment timescales for projects involving public funding is essential.
Longer-term funding: Three-quarters (74%) of our respondents reported that shorter funding cycles hamper the ability to explore new areas in depth. This pressure to produce results in shorter timeframes also weighs on the quality of work: There has been a rise in retractions of publications due to error and fraud, as well as the notable issue of non-reproducibility of experiment results. Without the freedom to pursue longer-term programmes, only incremental improvements to existing technologies can be made. Shifting that focus may be crucial to supporting research in the future.
Intensified collaboration and right-sized outsourcing: Collaboration between different organisations, whether that's between universities or between industry and academia, appear to be linked to greater research productivity. Cross-silo working should be encouraged. There has also been a trend in recent decades of outsourcing research to third-party organisations. However, we find that this must be carefully managed to avoid negative impacts such as loss of knowledge within the contracting organisation.
Managing complexity: 85% of the 3,500 scientists we surveyed reported that research is getting more complex. Greater specialisation is needed, and that requires larger teams often spread over multiple campuses or even countries. This brings with it challenges of administration and communication. Focusing on easing these communication difficulties is important to alleviate the negative effects of increased complexity.
As the world begins to emerge from the worst of the pandemic, it is vital the scientific community is fully prepared to find solutions for future outbreaks. Policymakers need to invest in long-term funding for research, while scientists must work better together to accelerate the speed and scale of research productivity.