Recent Release | 03 Mar 2022
Empowering your people: How executives can jump-start the flexible workplace
Thought Leadership Team
Oxford Economics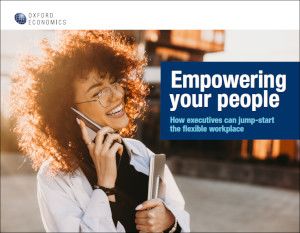 Great Resignation. The Big Quit. Whatever name it goes by, the recent increase in employee turnover is part of a major shift in the way employees see their jobs. These changes are across role and function–from summer interns to the C-suite, from HR to finance and IT.
To find out how executives are preparing for these changes, Oxford Economics and SAP Concur business unit of SAP recently conducted a worldwide, cross-industry survey of 851 finance and IT executives and 851 employees in the finance and IT functions at companies with more than 1,000 employees, as well as 352 finance and IT leaders at companies with fewer than 1,000 employees.
The best-prepared organisations have optimised processes needed to keep the organisation running smoothly, offer benefits and training that employees value, and are ready for the next shift in employee expectations. Unprepared organisations, with less resilient operations, face compliance and cybersecurity risks, as well as retention and recruitment challenges.
Our project included an executive summary of global results, and 16 fact sheets detailing country-level results.
About the team
Our Thought Leadership team produces original, evidence-based research made accessible to decision-makers and opinion leaders. Principals for this project included:
Kayla Luparello
Research Manager, Thought Leadership
+1 (646) 503 3062
Kayla Luparello
Research Manager, Thought Leadership
New York, United States
Kayla supports global research studies for Thought Leadership, working across business sectors and disciplines, with a specific focus in finance. Based in our New York office, Kayla works closely with senior staff to aid in all aspects of research programs and produce multi-media deliverables. Kayla graduated from Colby College with degrees in Government and Global Studies.