Recent Release | 04 Nov 2021
Achieving net-zero infrastructure
Macro Consulting Team
Oxford Economics
A framework to interpret the global green infrastructure transition through a sample of 80 representative countries.
Infrastructure is a big part of the world's climate change challenge – but how can the transition to net-zero global infrastructure be achieved? To bring greater clarity to the issue, research undertaken by Oxford Economics on behalf of PwC offers a framework to interpret the global green infrastructure transition through a sample of 80 representative countries.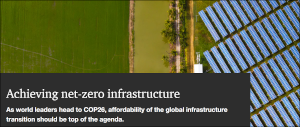 We have constructed an index summarising a range of indicators to compare countries on two dimensions: the 'decarbonisation challenge' (the level of current and future emissions to abate and the amount of infrastructure to decarbonise) and 'capacity to pay' (reflecting each country's financial ability to decarbonise both existing and future infrastructure).
For developing countries, it is clear that support in terms of foreign direct investment and foreign grants will be vital to ensure they have the financing and technologies to support them on their journey to meet net-zero targets. Conversely, richer countries have a greater capacity to pay for the green transition because of their wider tax base, but governments in these advanced economies will still need to consider a mix of unpopular measures like raising taxes and increasing charges on end users. The temptation to defer these decisions remains high, but this only passes the buck, increasing pressure on future generations and the affordability of the transition to net zero.
About the team
Our macro consulting team are world leaders in quantitative economic analysis, working with clients around the globe and across sectors to build models, forecast markets and evaluate interventions using state-of-the art techniques. Lead consultants on this project were::
Graeme Harrison
Director of EMEA, Macro Consulting
+44 (0) 28 9263 5417
Graeme Harrison
Director of EMEA, Macro Consulting
London, United Kingdom
Graeme Harrison is the Director of EMEA, Macro Consulting. Previously Graeme was Associate Director in Oxford Economics' Economic Impact and Cities Team. Graeme has managed large-scale macroeconomic modelling and economic consulting projects across the globe for public and corporate clients such as the United Nations Economic Commission for Africa, the Abu Dhabi Department for Economic Development, Indonesia's state planning agency Bappenas, the UK Department for International Development and the Big Four professional services firms.
Graeme also currently manages Oxford Economics' African and Middle East Cities Forecasting Service and led the development of the Global Cities Forecasting Service covering the world's largest 750+ cities. Graeme's areas of specialism include macroeconomic model building, international development and education & skills.
Graeme has also previously acted as a macroeconomic technical advisor to finance ministries in Uganda and South Sudan. Prior to joining Oxford Economics in 2006, Graeme spent two years as a Senior Economist working for the Ugandan Ministry of Finance through the distinguished Overseas Development Institute (ODI) Fellowship Programme.
Graeme graduated from Queen's University in 2002 with a first-class honours degree in Finance and received the Financial Times award for outstanding performance. Graeme later obtained an MSc Finance with distinction, also from Queen's.
Related Services
Service
Global Macro Service
Monitor macro events and their potential impact.
Find Out More
Service
Global Economic Model
Our Global Economic Model provides a rigorous and consistent structure for forecasting and testing scenarios.
Find Out More