Consulting | 26 Jul 2021
The Concerts and Live Entertainment Industry: A Significant Economic Engine
Tourism Consulting Team
Tourism Economics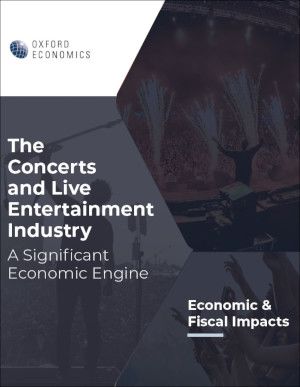 We all remember our first concert or seeing our favourite band live, but rarely do we think of the stagehands, lighting techs, and ushers who worked hard to deliver these memorable experiences or the impact they have on our local, state, and national economies.
In order to better understand the economic impact this important industry has across the United States, Oxford Economics developed a customized framework to analyse the impact of the concerts and the live entertainment industry's nationwide economic contributions in 2019 and conducted an in-depth analysis of the economic impacts of live event venues, artists, and visitor spending in terms of economic output, labour income, taxes, and jobs. Due to the pandemic putting a pause on live events in 2020, this report examined 2019 data to ensure a complete analysis could be conducted that is in line with regular performance of the industry.
The industry drives significant economic activity that supports businesses, households, and government finances across the United States. In the wake of COVID-19, live events were shut down for over a year. Beyond the cultural loss involved, the US economy has incurred massive losses in GDP, employment, household income, and tax revenue due to the absence of live events. After a year of isolation, many crave getting back to enjoying memorable live experiences safely in 2021 and into the 2022 and 2023 seasons, which position the industry for growth in the coming years.
The Concerts and Live Entertainment Industry, as defined by this report, includes all live musical performances, such as festivals and concerts, and comedy shows held in amphitheaters, clubs, theaters, arenas, stadiums, and other venues. Not included in this analysis are theater, Broadway, sporting events, and family shows.
The report affirms that the Concerts and Live Entertainment Industry is a significant economic engine in the United States, and the report's key findings revealed that:
In 2019 the industry's total nationwide economic impact of $132.6 billion supported 913,000 total jobs with associated labor income of approximately $42.2 billion.
The industry generated a direct impact of $55.2 billion in 2019, which included local operational spending by live events venues and off-site spending by out-of-town live event attendees.
If an out-of-town attendee were to spend $100.00 on a concert ticket, the local economy would benefit from an additional $334.92 in spending, resulting in a total spending impact of $434.92.
Overall, the live events industry generated a total fiscal impact of $17.5 billion in 2019, including nearly $9.3 billion in federal tax revenues and $8.3 billion in state and local tax revenues.
While the national impact of the live event industry is significant, live's impact starts locally. The economic impact of live events extends beyond the jobs, event, and venue itself to local restaurants, hotels, bars, retailers, and small businesses…
Download State Impact Summary Reports:
About the team
Our consulting team at Tourism Economics are the world's leading analysts of the global tourism and travel sector. They combine their expert insight with our state-of-the-art economic models and tools to answer the crucial questions facing our clients. Lead consultants on the project were:
Adam Sacks
President, Tourism Economics
+1 (610) 995 9401
Adam Sacks
President, Tourism Economics
Philadelphia, United States
Adam Sacks is the founder and President of Tourism Economics, an Oxford Economics company dedicated to understanding the relationship between travel and the economy.
For more than two decades, Adam has worked with destinations, industry associations, and companies around the world in the areas of opportunity and risk assessments, policy analysis, and economic impact.
He is an authority on measuring the economic impact of visitor activity and has analyzed the impacts of cruising, gaming, timeshare, hotels, new attractions and destination marketing. Adam's work has provided the foundation for billions of dollars in capital investment decisions by hotel companies, developers, and investors. Destination marketing organizations around the world rely on Tourism Economics data and scenario models to inform global marketing investment allocations.
Adam also supports trade associations in the aviation, hotel, and broader travel arena with forecasts widely considered to be an industry standard. Adam's work has influenced critical government policies in the areas of travel facilitation, taxation, and tourism promotion initiatives. Adam regularly presents to corporate strategic planning teams on the threats and opportunities facing their businesses and is a member of the U.S. Department of Commerce, Travel & Tourism Advisory Board.
Michael Mariano
Director of Economic Development, Tourism Economics
+1 610 995 9600
Private: Michael Mariano
Director of Economic Development, Tourism Economics
Philadelphia, United States
To find out more about our capabilities, contact:
Americas
Adam Sacks
+1 (610) 995 9401
Email