Recent Release | 01 Feb 2022
The Ultimate Healthcare Experience: What People Want
Thought Leadership Team
Oxford Economics
2021 Accenture Health and Life Sciences
Experience Survey
What makes a healthcare experience great, and how do expectations differ across countries, generations, health status, and other factors? To answer these questions, Oxford Economics has worked with Accenture for the past three years on its annual digital health consumer survey. This year, we surveyed 11,823 people in 14 countries about their healthcare experiences and expectations in terms of access, service experience, digital technologies, and trust.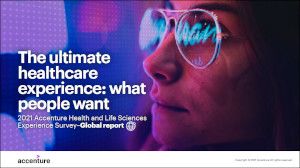 Healthcare can no longer be treated as a one-size-fits-all, one-way transaction. We found that people around the world expect personalized healthcare experiences that prioritize emotional support and empathy from providers, enable technology-driven convenience and efficiency, guarantee data privacy and security to increase trust, and emphasize equitable access for all.
Access the country reports below
About the team
Our Thought Leadership team produces original, evidence-based research made accessible to decision-makers and opinion leaders. Principals for this project included:
Sundus Alfi
Senior Research Manager, Thought Leadership
+1 917 746 6820
Sundus Alfi
Senior Research Manager, Thought Leadership
New York, United States
Sundus manages research programs for the Thought Leadership team, focusing on healthcare, the future of work, the data economy, and diversity and inclusion. She is involved in all aspects of research, from drafting hypotheses and designing global executive, employee, and consumer surveys to analyzing large datasets and reporting on the results in briefing papers and graphics. She also has experience conducting interviews, writing case studies, and presenting her research in webinars.
Sundus graduated from the University of North Carolina at Chapel Hill in 2018 with degrees in Public Policy and Economics.
Edward Cone
Editorial Director, Thought Leadership
+1 (336) 337 3127
Edward Cone
Editorial Director, Thought Leadership
New York, United States
Editorial Director Edward Cone oversees global research programs for our Thought Leadership group. As Technology Practice Lead he works with clients such as Google, Accenture, IBM, SAP, and many others. His areas of focus include Artificial Intelligence, the impact of technology on business performance, and healthcare organizations.
Edward joined the firm in 2012 after more than two decades as a business and technology journalist based in New York, Paris, and North Carolina, including stints as an editor and writer at various Ziff Davis magazines (CIO Insight, Baseline), a contributing editor at Wired, and a staff writer at Forbes.
Edward also wrote a weekly newspaper opinion column for many years in his hometown of Greensboro, NC and authored a semi-popular blog. He has contributed to a bewildering variety of magazines and papers on topics ranging from politics to rock climbing and was a frequent speaker and organizer at new media conferences across the country. Honors for his work include the 2020 Rybczynski Prize, awarded for the best essay on economics by Society of Professional Economists, and various awards from the American Society of Business Publication Editors and the North Carolina Press Association. He has a BA from Haverford College.