External Workforce Insights 2018
The Forces Reshaping How Work Gets Done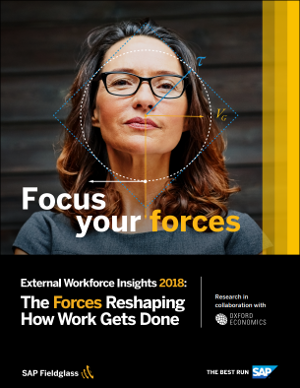 Oxford Economics worked with SAP Fieldglass to survey 800 executives about labor trends, focusing on the use and management of the non-payroll workforce and its impact on business and financial performance. The research covered 16 industries and more than a dozen countries. Among the top findings:
Forty-four percent of workforce spending is on the external workforce, including non-payroll workers such as contractors and freelancers, and services providers like consulting firms and marketing agencies.
The external workforce is very important to the way companies operate and achieve competitive advantage. It is a key enabler of business performance (55%), helps companies improve their overall financial performance (62%), and helps them compete in a digital world (47%).
Read the full report