Recent Release | 21 Jan 2022
BAE Systems' Contribution to the UK Economy
Economic Consulting Team
Oxford Economics
"BAE Systems' Contribution to the UK Economy" is an independent report by Oxford Economics quantifying the total economic impact of BAE Systems to the UK economy in 2020. The report measures the Company's impact on the UK's GDP, employment, and tax revenues supported directly by the Company, by its supply chain, and by its employees' consumer spending. Alongside national-level impact estimates, we present employment impacts estimated for four areas in the UK where BAE Systems concentrates the majority of its workforce: the central belt of Scotland, Cumbria, the south of England, and Lancashire. The report also explores how the Company contributes more widely to the UK economy in the long-term, through R&D activity, capital investments, exports, and training programmes. Finally, the study looks at how BAE Systems supported employment in the most deprived areas of Great Britain, and in geographies hit hard by the COVID-19 pandemic.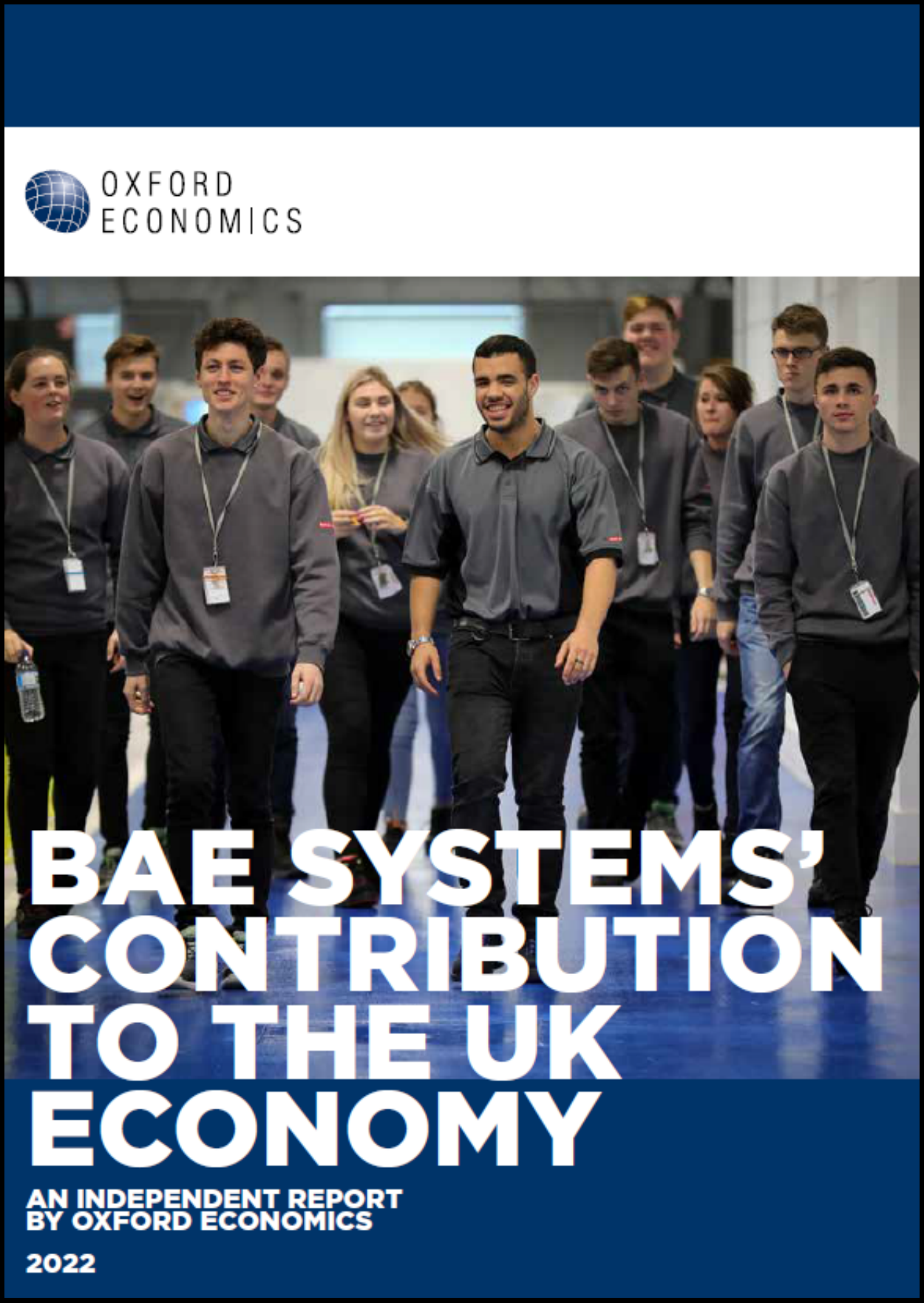 We estimate that BAE Systems supported 143,000 fulltime equivalent (FTE) jobs in the UK in 2020. In the same year, the Company's operations are estimated to have supported a £10.1 billion contribution to UK GDP, equivalent to 0.5% of the domestic economy. BAE Systems' workforce is highly technical; 72% are employed in engineering-related roles, and average productivity was estimated to be 17% higher than the average for the UK manufacturing sector and 29% higher than the overall average across the economy. In 2020, the Company supported a total tax contribution of £2.7 billion to the UK Exchequer.
BAE Systems' impact extends beyond the core economic footprint to the wider benefits its activities bring to the UK economy and society.
In 2020, the Company spent £93 million on skills and training and development activities across its UK workforce and on engagement with schools and young people; more than 2,000 apprentices and nearly 600 graduates were on training schemes. In addition, BAE Systems directly employed 14,700 workers—more than 40% of its overall UK workforce—in Britain's most deprived local authorities. In 2020, BAE Systems exported £3.9 billion worth of goods and services—representing 0.7% of all UK exports in that year. This is equivalent to 133% of the Company's direct contribution to GDP, providing a significant boost towards the Government's target of exports reaching 35% of GDP. BAE Systems also makes a substantial contribution to the UK wider economy through its technology and R&D activity. In 2020, the Company's scientists and research engineers delivered £1.0 billion of R&D activity on behalf of the UK Government, and self-funded a further £100 million of R&D in the country.
About the team
Our economic consulting team are world leaders in quantitative economic analysis, working with clients around the globe and across sectors to build models, forecast markets and evaluate interventions using state-of-the art techniques. Lead consultants on this project were:
Rob Harbron
Associate Director
+44 (0) 20 3910 8108
Private: Rob Harbron
Associate Director
London
Simon Garforth-Bles
Economist
+44 (0) 20 3910 8135
Private: Simon Garforth-Bles
Economist
London