Recent Release | 03 Mar 2022
Assessing the economic, societal and cultural impact of YouTube in India
Economic Consulting Team
Oxford Economics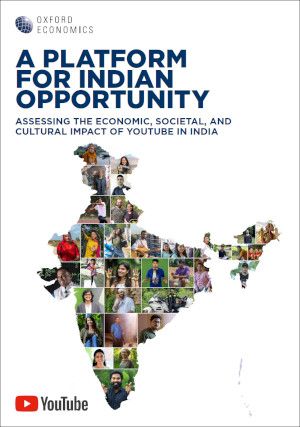 Recent research by Oxford Economics suggests YouTube contributed 6,800 Cr to the Indian economy in 2020 and supported 6,83,900 jobs. But its impact goes further, bringing a rich array of economic, cultural and societal benefits to India. YouTube generates substantial revenue for creators, artists, and media companies, who in turn support a broad ecosystem of employees and businesses in India. Creators deliver a wealth of educational tools and materials, which are valued by students, parents, and teachers alike.
Our economic consulting team are world leaders in quantitative economic analysis, working with clients around the globe and across sectors to build models, forecast markets and evaluate interventions using state-of-the art techniques. Lead consultants on this project were:
John Reiners
Managing Editor, Thought Leadership – EMEA
John Reiners
Managing Editor, Thought Leadership – EMEA
London
James Lambert
Director of Economics
+65 6850 0125
James Lambert
Director of Economics
Singapore
James is the Director of Oxford Economics' economic consulting services in Asia.
James moved to this role from Oxford Economics' London office, where he headed up a team dedicated to exploring the economic impact of technology. He delivered high profile studies on the growth of the digital economy, the impact of automation and the implications for the labour market.
Prior to joining Oxford Economics, James spent over six years in the Government Economics Service. He worked in economics teams of the Cabinet Office, the Foreign and Commonwealth Office and the Department for Transport. There, he gained experience in microeconomic analysis and impact assessment as well as international macroeconomics, economic risk analysis and energy security. In the FCO, James spent three years working on economic issues in East and South East Asia. He also previously worked for the International Labour Organization.