Three ways blockchain Explorers chart a new direction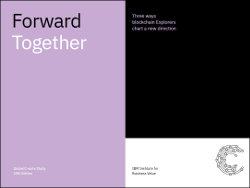 In addition to posing questions about business strategies and planning, and their effect on business models, we asked our respondents how advanced they may be in adopting blockchain technology. A substantial 33% of organizations (on average, across all industries and regions) are already considering or actively engaged with blockchains.
Of particular interest in this study are those organizations that are already experimenting with, piloting, or implementing blockchains. We call them the Explorers, and their number suggests a steady growth in blockchain activity in industries early out of the gate.