The Economic Impact of Huawei in the UK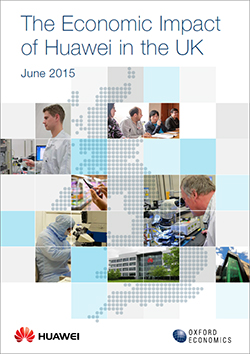 In September 2012, Huawei commited to spending £1.3 billion in the UK. Almost three years later, the global information and communications leader is well on its way to doing just that—and with vast social and economic significance.
In this report, Oxford Economics explores the contribution of Huawei to the UK economy over the three years 2012-2014, and assesses the company's recent UK expenditure record over the five years 2013-2017, split equally between investment and procurement.
About Huawei
Huawei is a global leader of ICT solutions—with telecom network equipment, IT products and solutions, and smart devices used in 170 countries and regions across the world. To find out more, please go to www.huawei.com/.
Oxford Economics Research Team
Our Economics Impact team produces original, evidence-based research made accessible to decision-makers and opinion leaders. Principals for this project included: