Putting the Experience in Digital Customer Experience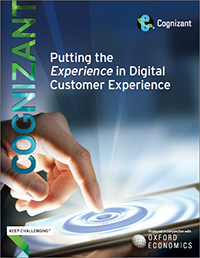 Working with Cognizant, Oxford Economics conducted a global survey of 300 senior executives to better understand how companies are using new digital technologies to change the way they market, sell, and develop products and services. Our survey shows that while companies understand the importance of the digital customer experience, few are taking the bold steps necessary to unlock these opportunities or moving at a pace that will keep them competitive in rapidly-changing markets.​
About Cognizant
Cognizant is a global leader in business and technology services, enabling global enterprises to address a dual mandate: to make their current operations as efficient and cost-effective as possible and to invest in innovation to unleash new potential across their organizations. To find out more, please go to www.cognizant.com.
Oxford Economics Research Team
Our economic impact and thought leadership teams produce original, evidence-based research made accessible to decision-makers and opinion leaders. Principals for this project included: