Fiscal risks for the food sector in Asia after COVID-19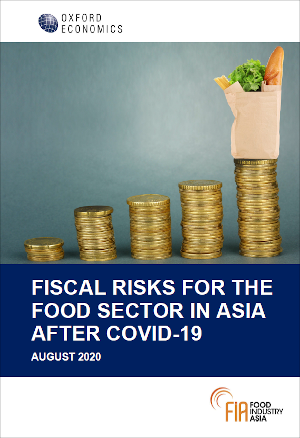 This paper, the second in our series of three examining the impact of the coronavirus pandemic on the food sector in Asia, looked at the potential fiscal risks to the sector arising as a result of the pandemic.
In this report, produced on behalf of Food Industry Asia, we examine the impact of the coronavirus pandemic on government balance sheets around Asia, and the potential implications this might have for the food industry across the region. We develop a Fiscal Risk Framework which benchmarks the differing fiscal cost across economies and a range of channels through which the food industry could be exposed to government efforts to rebalance the books.
We find fiscal risks to the food sector to be most-pronounced in three ASEAN economies (Philippines, Indonesia and Thailand), with Malaysia also worth highlighting as a result of especially-urgent health challenges.
For more information and to access the study, please visit: here
Our economic consulting team are world leaders in quantitative economic analysis, working with clients around the globe and across sectors to build models, forecast markets and evaluate interventions using state-of-the art techniques. Lead consultants on this project were: