Helping to understand the impact of Brexit: The economic outlook for UK legal services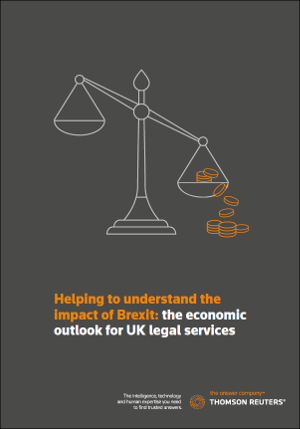 Following the 2016 referendum, economic uncertainty has spread across several industries within the UK economy. This report is Oxford Economics' and Thomson Reuters' exploration of the impact of the UK's potential departure from the EU on the legal services industry.
The report uses several research techniques including economic modelling, face-to-face and telephone interviews, and an online survey to explore the possible outcomes of Brexit for the legal services industry under two scenarios. The first scenario assumes the UK enters a free trade agreement with the EU. The second scenario, the 'Downside', assumes the UK and the EU enter a WTO agreement.
The headline result is that we estimate turnover for the legal services sector could be £580mn lower by 2020 if the government fail to agree a transition deal for legal services.
The report also explores the structural changes that could occur in the legal services sector post Brexit. These changes are likely to vary according to firm size and specialty.
Oxford Economics Research Team
Our economic impact and thought leadership teams produce original, evidence-based research made accessible to decision-makers and opinion leaders. Principals for this project included: